ABOUT MANUREWA DENTAL
Manurewa Dental Centre has been serving the South Auckland community for over 30 years providing top quality dental care to Manurewa and South Auckland.
At Manurewa Dental our Auckland dentists are committed to providing the highest standards of general dentistry, cosmetic dentistry and preventative dentistry. Our team is made up of highly qualified dentists, a hygienist, dental assistants and administrational staff who have both expertise and experience in the dental services we provide.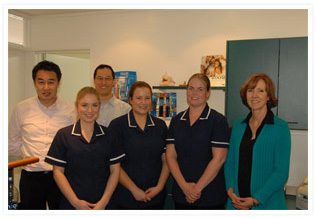 ANDREW HALL BDS (OTAGO)
Dentist
Andrew graduated from the University of Otago in 1991 and has been a partner at Manurewa Dental Centre since 1994. He is a member of both the New Zealand Dental Association (NZDA) and the Auckland Dental Association (ADA).
Andrew enjoys all aspects of dentistry and gains great satisfaction from creating beautiful, confident smiles for his clients.
As part of his continuing dental education and up-skilling, Andrew attends a number of dentist courses and conferences each year to keep up with the latest advances in dental technology.
Andrew and his wife Carolyn have two boys. His interests outside of dentistry include spending time with his family, going to the movies, and watching his boys play sport. He is also an avid fisherman.
OWEN YEE BDS (OTAGO)
Dentist
Owen is a New Zealand born graduate of the University of Otago Dental School. He is a member of both the New Zealand Dental Association (NZDA) and the Auckland Dental Association (ADA).
Owen practices general family dentistry with the goal of helping clients keep, maintain and improve their dental health. Regular attendance at dentist technology courses means he is kept right up to date with the latest dental products and dental techniques.
Of particular interest within the field of dentistry is the restoration of teeth for life, and improving dental appearance and function. Owen also has an interest in minor oral surgery.
Owen has been an Auckland dentist in private practice in Manurewa for over 20 years and feels privileged to provide quality dental care for both the local Manurewa and wider South Auckland community.
Outside of dentistry Owen relaxes by spending time with family and friends. He enjoys reading, gardening, fishing and being out in New Zealand's great outdoors.
EMMA THOMPSON
Hygienist
Emma graduated from the University of Otago in 2006, with a Bachelor of Health Sciences endorsed in Dental Hygiene.
Originally from Wellington, Emma has enjoyed working here in Auckland at Manurewa Dental Centre for the past 8 years.
With a friendly approach, Emma gets satisfaction in helping people on their journey to maintaining a healthy mouth. Always interested in learning more, Emma regularly attends hygienist conferences and continuing education courses. She is also a member of the New Zealand Hygiene Association.
Emma has 2 children, and has a love of fitness and travelling.
DENTAL ASSOCIATION MEMBERSHIPS
The Dentists at Manurewa Dental Centre are members the following dental associations: